Before starting edenjadegrey.com over from scratch, one of my most popular posts was about my tattoos. Since that post was written, I have acquired many more, and so thought it would be fitting to make an updated version.
I got my first tattoo on my 18th Birthday and fell in love with the process. To me, tattoos are the ultimate form of creative expression and personality. I love putting artwork on my body that reminds me of the things, places and people that I love.
Both of my sleeves were done by Wit McKnight, at American Classic Tattoo in Nampa, Idaho. I have three other tattoos that were done at different shops in Oregon and Idaho.
My Sleeves
My left arm took about seven session from start to finish, approximately 42-50 hours. While I didn't keep track of the cost, I would guess that with time and tip, I spent about $3,500-$4,000.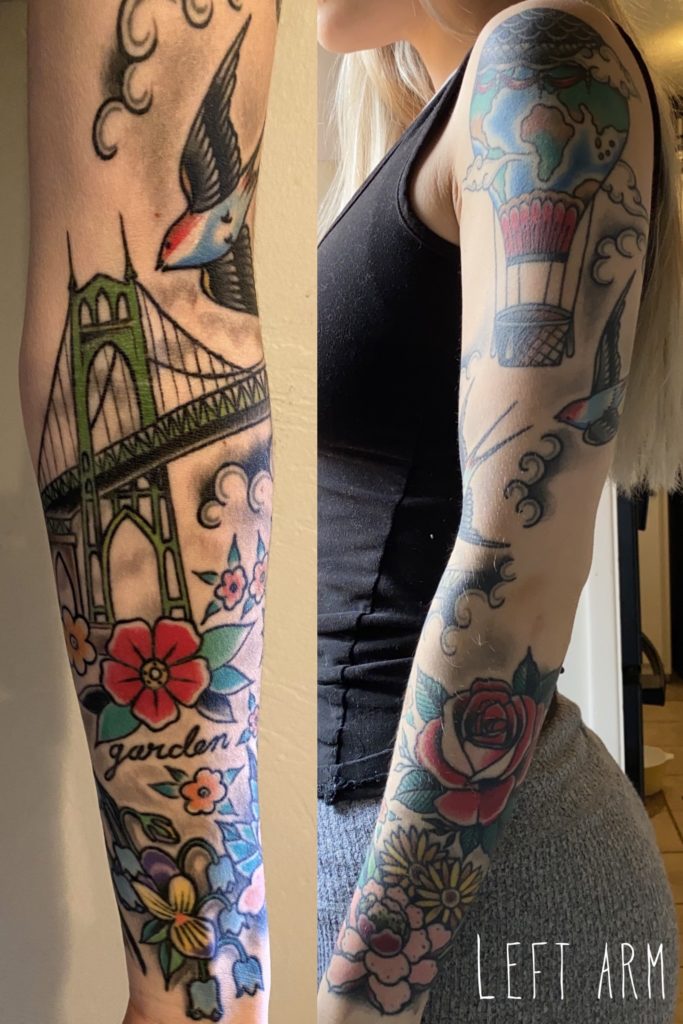 Here is a bit about their meaning, starting from the bottom of my arm to the top:
The flowers around my wrist are all the women (plus my little brother) in my life's favorite flowers.
Moving up, the "garden" is my nick-name, and the rose on the back side of my arm represents Portland, Oregon "the city of roses", where I am from.
In the ditch of my elbow is the St. Johns Bridge in Portland, and I had it surrounded by storm clouds because I love the rain more than anything.
The birds are symbolic of my leaving home and adventuring as a young person, as they are flying away from so many things that remind me of home, towards my balloon.
And finally, my dear balloon, easily my favorite tattoo. She represents my love of travel and adventure.
---
My right arm is currently sleeved half-way, and took 3 sessions (19-23 hours) to finish. It cost me approximately $1,300 in total, including tip. I got this tattoo because I love the ocean and wanted to be reminded of it every time I look at my arm. I have big plans for the rest of this arm, and cannot wait to finish the story that it will tell.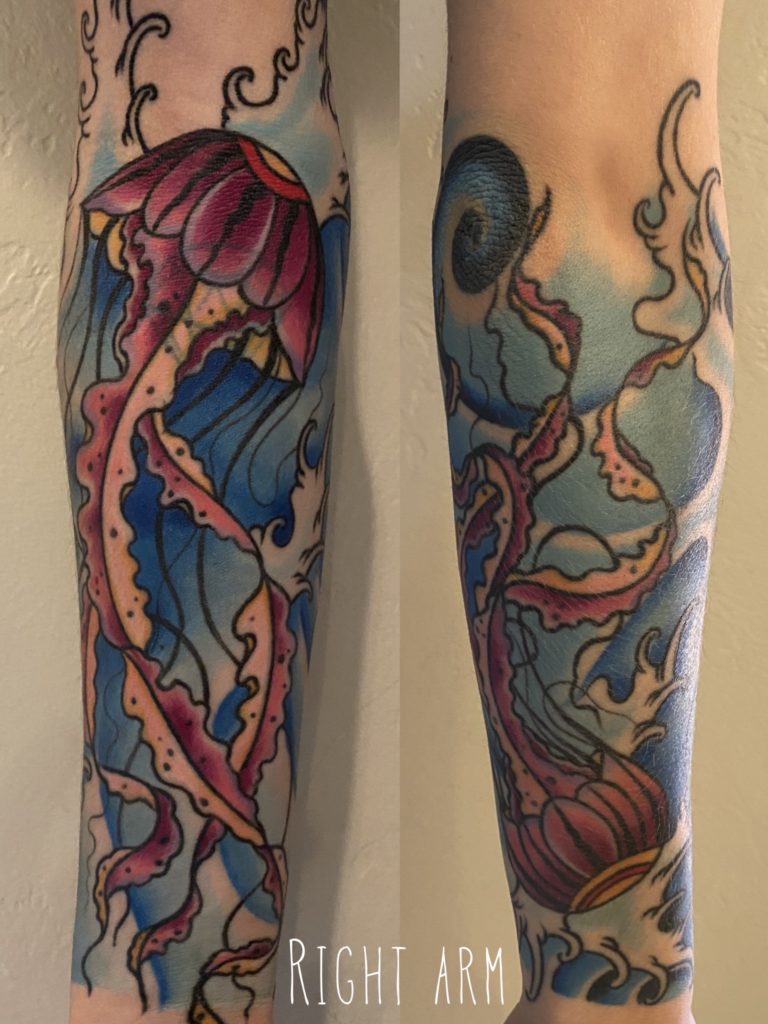 This was by far the most painful tattoo that I have gotten because we completely filled my elbow and the ditch. Let me tell you, the elbow f****** hurts. I have a high tolerance for tattoo-pain, but getting my elbow done almost made me cry. That being said, I don't regret it one bit. It turned out to be the most intricate, beautiful and artistic piece that I have on my body.
If you look closely, the jellyfish on my inner arm is covering an old diamond tattoo that I didn't want anymore.
The Rest of My Tattoos
I have a bee on my right shoulder that matches with my best friend, Ellie. The tattoo was a gift from her for my 22nd Birthday, and is my most meaningful piece, because it makes me feel closer to her.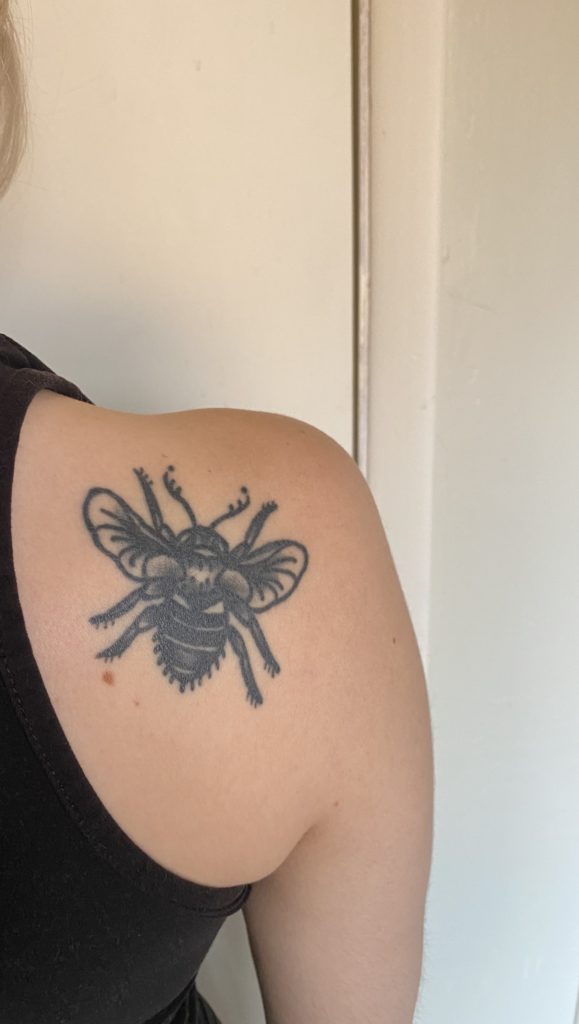 I also have half of a mandala on my foot that I love, and plan to extend up my calf eventually. My foot was the second-most painful place to have tattooed, so I'm not in a hurry to finish my vision for that piece.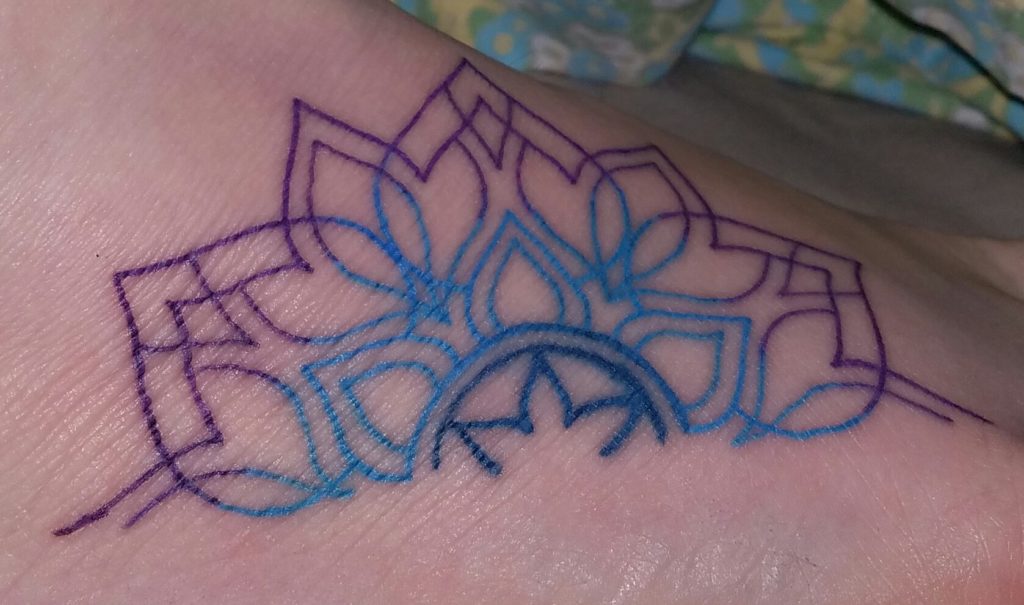 The last tattoo I have to share was the one that started it all (I got it 2 days after my 18th Birthday). I forget about this one often due to the placement, but still love it regardless. It represents Sun Valley, where I currently live and where I grew up visiting as a child to see my grandparents.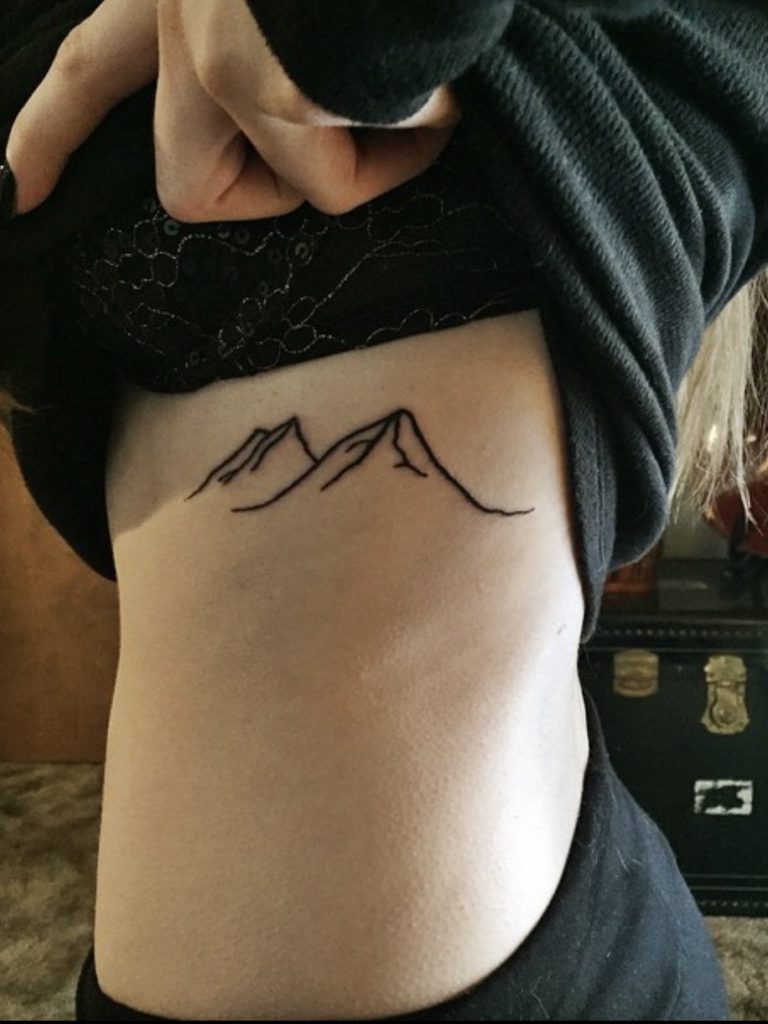 Tips & Tricks
In no particular order, here are some tips and tricks I have for you when getting tattoos and taking care of them:
TIP YOUR ARTIST – Seriously, tip them and tip them well. You tip your nail tech and your hair stylist for temporary "art," why wouldn't you tip your tattoo artist for the permanent art they are doing for you! I have never left less than a $50 tip on any piece, and usually I try to leave something more like $100-$200, depending on the size and cost. Being a generous tipper also helps to build a good relationship with your artist. They will be much more inclined to cut you deals on large pieces if they already know you're a good customer who tips well.
DON'T PICK YOUR HEALING ART – Please please please please please don't pick your healing tattoos. For some, this is a no-brainer. However, you'd be surprised how many people with fresh work I've seen picking and scratching their healing tattoos. This WILL mess them up. Don't do it. If you really must itch them, give lightly slap it instead.
DRINK WATER AND EAT BEFORE & AFTER – Okay, this one may seem a bit random, but it's important! The sessions on my sleeves averaged 6-7 hours. That's 6-7 hours of your body being in moderate pain and you sitting there trying not to move. Make sure that you eat a good meal before and after the session, and try to stay hydrated. The excitement and adrenaline can trick you into forgetting these essentials, and I can't tell you how many times I've gotten sick after an appointment from forgetting to nourish my body.